Seder Arrangements to Order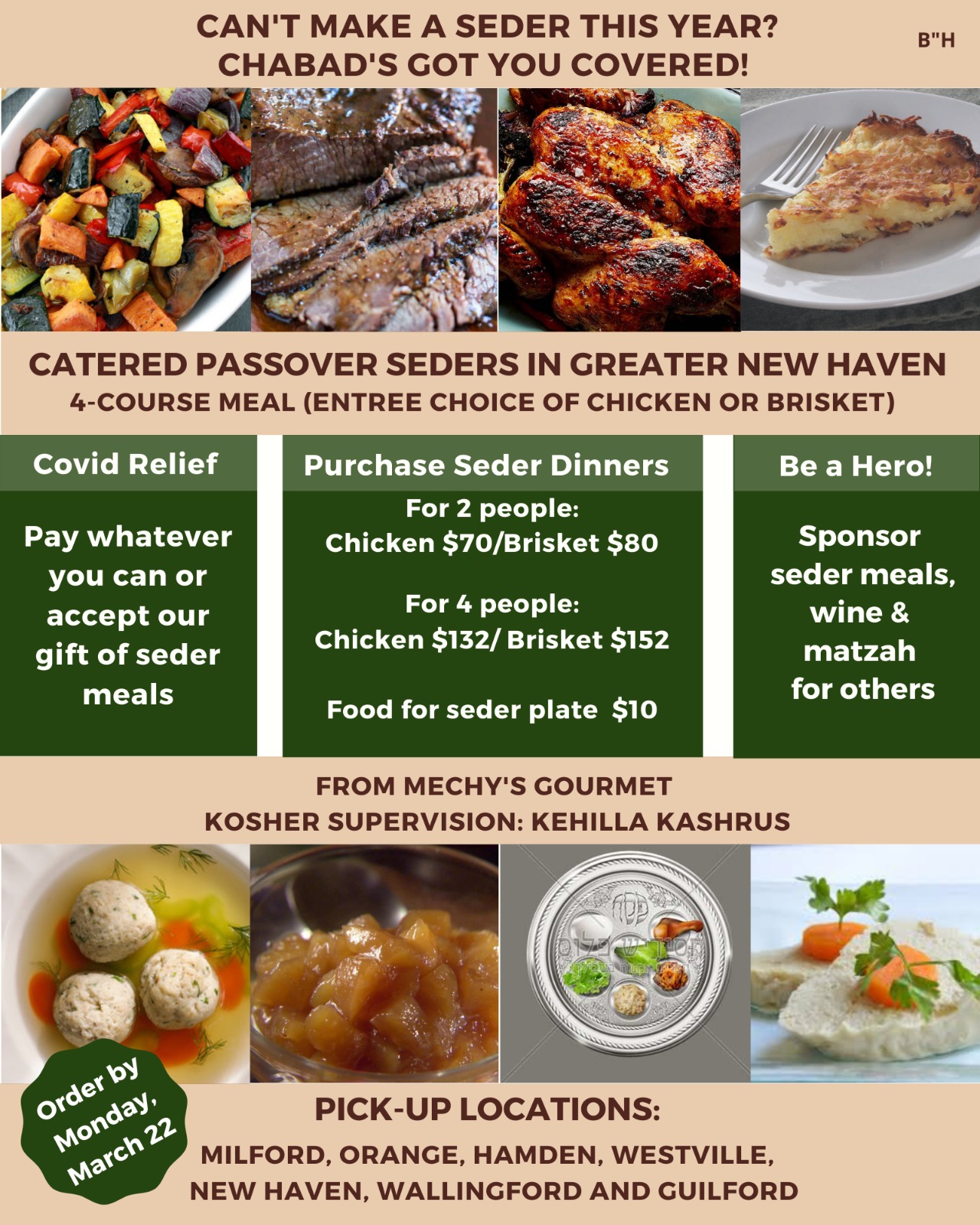 We all endeavor to have a Kosher and beautiful Seder for our families. To that end Chabad of Westville has matched up Season's catering with the Westville community, for a smooth ordering proccess. 
You can choose to add the seder plate option and even sponsor a seder for another!
Please consider both Seder nights and the (preceding) Shabbat meals when ordering.
Menu includes: 
Gefilte Fish, Chrain, Coleslaw, Cucumber Salad, Matzo Ball Soup, Chicken or Brisket, Potato Kugel, Oven Roasted Vegetables and Compote.  
Seder Plate foods for two seders: 2 Eggs, 1 Chicken Neck, Potato/onion, Charoset, Maror - horseraddish and romaine lettuce.
Orders by 03/22. Orders will be available for pickup on Thursday - 03/25 
 
Please contact Rabbi Chanoch for any other special requests. 
Wishing you an early 'Chag Kasher V'sameach' - a joyous Passover Holiday. 
Reminder to visit Chabadwestville.org/pesach and a smooth online option for selling your Chametz.  
When
March 7th, 2021 10:01 PM through March 26th, 2021 12:00 AM
Fee(s)
Dinner serving 2 (chicken)
$70.00
Dinner serving 2 (beef)
$80.00
Seder Plate Food Items
$10.00
Sponsor a Seder/Passover requirements for another
Full Passover Sponsor
$360.00
Seder Sponsor
$180.00
Matzah Sponsor
$72.00
Other Amount